The late great Serge Gainsbourg (April 2, 1928 – March 2, 1991) was a French poet, singer-songwriter, actor and director. He was also a babe-hound while being a whisky connoisseur and swordmaster supreme! Gainsbourg's varied style and individuality made him difficult to categorise.
Although famous in France for many years, he did not achieve his first No. 1 album until 1979, when he released
Aux Armes et cetera
more than twenty years after his music career had begun. Since the 1980s, his legacy has been firmly established.
Gainsbourg is probably best know for his fantastic duet with the lovely Brit Jane Birkin:
"Je t'aime.."
(RealPlayer) Born Lucien Ginsburg in Paris, France, the son of Russian Jewish parents who fled to France after the 1917 Bolshevik uprising. His childhood was profoundly affected by the occupation of France by Nazi Germany, during which he and his family, as Jews, were forced to wear the yellow star and eventually flee from Paris.
Before he was 30 years old, Gainsbourg was a disillusioned painter but earned his living as a piano player in bars.
His ex wife, Jane Birkin recollects the beginning her affair with Gainsbourg , where he first took her to a nightclub, then to a transvestite club and afterwards to the Hilton, where he passed out in a drunken stupor. He confessed to Birkin that he had been scared of one time beau, and collaborator, uber hotty Brigitte Bardot's breasts. Gainsbourg married Birkin when she was 19, he was 36 . Birkin left Gainsbourg when pregnant with her third daughter Lou, by the film director Jacques Doillon, whom she later married.
In 1969, he released what would become his most famous song in the English-speaking world, "Je t'aime... moi non plus," which featured simulated sounds of female orgasm. The song appeared that year on an LP, Jane Birkin/Serge Gainsbourg.

Originally recorded with Brigitte Bardot, it was released with future girlfriend Birkin when Bardot backed out. While Gainsbourg declared it the "ultimate love song," it was considered too "hot"; the song was censored in various countries, and in France even the toned-down version was suppressed. The freaks in the Vatican made a public statement citing the song as offensive. It reached no. 1 in the UK singles chart.
In the 1980s, approaching the end of his life, Gainsbourg became a regular figure on French TV. His appearances seemed devoted to his controversial sense of humour and provocation. He would show up drunk and unshaven on stage.
On Michel Drucker's live Saturday evening show with the American singer Whitney Houston, he exclaimed to the host, "I want to fuck her!"
And here is that legendary incident from 1986 when Serge (heavily pissed-up on booze) met the then squeaky-clean (i.e. before she became a quasi crack ho!!) Houston on that French live TV-Show;
Serge vs Whitney
(RealPlayer). Truly f
ucking Hilarious!!
In another talk show interview, Serge appeared alongside Catherine Ringer, a well known French singer who in the past had appeared in a few wonderfully nasty pornographic films. Gainsborough shouted:"
You're nothing but a filthy whore .... a filthy, fucking whore
."
Ringer scolded back, "
Look at you, you're just a bitter old alcoholic. I used to admire you but these days you've become a disgusting old parasite
."
Here's a snippet from that show ... again fucking hilarious!!
By December, 1988, while a judge at a film festival in Val d'Isère, he appeared drunk and in a rage at a local theatre where he was to do a presentation. While on stage he began to tell an obscene story about Brigitte Bardot and a champagne bottle (mm ... I wonder what that lurid anecdote could entail!) only to stagger offstage and collapse in a nearby seat.
During this period he released Love on the Beat, a controversial electronic album with highly sexual themes in the lyrics, and his last studio album, You're Under Arrest, (which saw him adapt his style to the hip-hop genre), as well as two live recordings.

His third and last Eurovision Song Contest entry came in 1990 with the French entry "White and Black Blues," sung by Joëlle Ursull. It came second in a tie with Ireland.
His songs became increasingly eccentric during this period, ranging from the anti-drug "Aux Enfants de la Chance" to the duet with his rather hot daughter Charlotte named "Lemon Incest." This translates as "Inceste de citron", a wordplay on "un zeste de citron" (a lemon zest). The title demonstrates Gainsbourg's love for puns (another example of which is Bowie, Beau oui comme Bowie).

Gainsbourg died on March 2, 1991 of a heart attack and was buried in Montparnasse Cemetery, in Paris. His funeral brought Paris to a standstill, and French President François Mitterrand said of him, "He was our Baudelaire, our Apollinaire... He elevated the song to the level of art."

His home at the well-known address 5bis rue de Verneuil is still covered in graffiti and poems.
Since his death, Gainsbourg's music has reached legendary stature in France. His lyrical brilliance in French has left an extraordinary legacy. His music, always progressive, covered many styles: jazz, ballads, mambo, lounge, reggae, pop (including adult contemporary pop, kitsch pop, yé-yé pop, '80s pop, pop-art pop, prog pop, space-age pop, psychedelic pop, and erotic pop), disco, calypso, Africana, bossa nova, and rock and roll. He has gained a following in the English-speaking world with many non-mainstream artists finding his arrangements highly influential.
He is also considered to be one of the first music pop artists of the late 1960s. While artists such as Andy Warhol and Roy Lichtenstein explored modern iconographic consumer culture through painting, Gainsbourg explored similar territory in music with songs such as "Comic Strip," "Ford Mustang," "Qui est In Qui est Out," and "Teenie Weenie Boppie."
Gainsbourg was a magnificent artist and a truly debauched genius! A man after my own heart!
trainwreck has uploaded this expansive Serge Gainsbourg discography! Thanks trainwreck !
Serge Gainsbourg - Histoire De Melody Nelson

Fantastic! This may well be Serge Gainsbourg's greatest album ever -- a whole suite based around a spare, electric bass-driven theme, with Serge muttering the lyrics in a raspy loud whisper, while funky rhythms dart in and out of washes of strings and eerie sounds. There's a very strong soundtrack feel to the album, as washes of music envelop the lyrics, tripped out in funky beats that have become legendary over the years, thanks to some very famous samples.


Code:
http://sharebee.com/5cff03a7
Serge Gainsbourg - Couleur Café

When not singing in the saloons and salons of the Rive Gauche or playing the bad guy in a serious of ludicrously bad Italian films, Serge Gainsbourg also found the time to dabble in the cha-chas and mambos which had swept Europe and America in the previous decade. However while most of the dance crazes were meant as one-offs, Gainsbourg took his excursions into Caribbean rhythms as seriously (and as comically) as all of his other stylistic experiments, and continued to record them sporadically up until the 1970's.
Code:
http://sharebee.com/b99836d9
L'étonnant Serge Gainsbourg (1961)
Apparently, Serge finished this, his third album, in under 30 minutes. Well done Serge. Guess there was some hot piece of ass waiting languidly in the motel to whom he needed to rush off!

As early as 1961, Serge Gainsbourg was one of the most extraordinary artists of the French pop scene, and during the first part of the '60s the crooner produced a series of outrageously brilliant albums with producer/arranger Alain Goraguer.

One of his most intoxicating amalgams of jazz and pop styles, L'Etonnant Serge Gainsbourg comes highly recommended to fans of '60s French pop.

An utterly essential early document of Serge Gainsbourg while he was still a mildly respectable man -- but that's not say there aren't hints of his notorious decadence in this early work.

Tracklisting
1. La Chanson De Prévert
2. En Relisant Ta Lettre
3. Le Rock De Nerval
4. Les Oubliettes
5. Chanson De Maglia
6. Viva Villa
7. Les Amours Perdues
8. Les Femmes C'est Du Chinois
9. Personne
10. Le Sonnet D'arvers
Code:
Serge Gainsbourg - Comic Strip
Around the same time Bob Dylan went electric in Newport, several thousand miles away in France Serge Gainsbourg, hip avatar of all things French, embraced the modish Carnaby street rock & roll sweeping England and America, producing some of the most vital music of his career, not to mention the sexiest. For a man whose personal appearance had been described as a handicap, Gainsbourg managed to produce some of the best pre-Prince makeout music on either side of the Atlantic.

Code:
http://sharebee.com/79416d35
Serge Gainsbourg - Aux Armes Et Caetera

This is one messed up set. Dig the fact that this is Serge Gainsbourg in dread beat and booze. Aux Armes et cætera is literally Gainsbourg on the rocksteady tip with Sly and Robbie, Flabba Holt, Michael "Mao" Chung, Ansel Collins, the I-Threes, Rita Marley, Marcia Griffiths, and Judy Mowatt, Sticky Thompson, Leroy "Horsemouth" Wallace, and a bunch of French folks playing puff-the-ganja and help the white man in Kingston. Gainsbourg knew what he wanted -- a Lee Perry-styled dubber and dread outing -- and he knew the cats to hire to get it.
Code:
http://sharebee.com/3f31ee71
Serge Gainsbourg - L'Homme À Tête De Chou

One of Serge Gainsbourg's best albums ever -- and don't pass it up! This one was recorded in the mid 70s -- and it's got a great set of orchestrations by Alan Hawkshaw that are filled with loads of cool spare moogy and electronic bits filtering in and out of the mix! Some tracks have an excellent sound that approaches Serge's classic Melody Nelson album -- and others have a uniquely spacey quality that's unlike any of his other work!
Code:
http://sharebee.com/b5aa2b53
Serge Gainsbourg - Rock Around The Bunker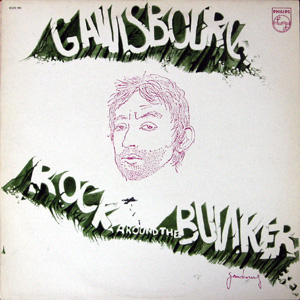 Not exactly a Mel Brooks' vehicle, Serge Gainsbourg's 1975 ROCK AROUND THE BUNKER features ten tongue-in-cheek Nazi pop songs.
Code:
http://sharebee.com/7a715230